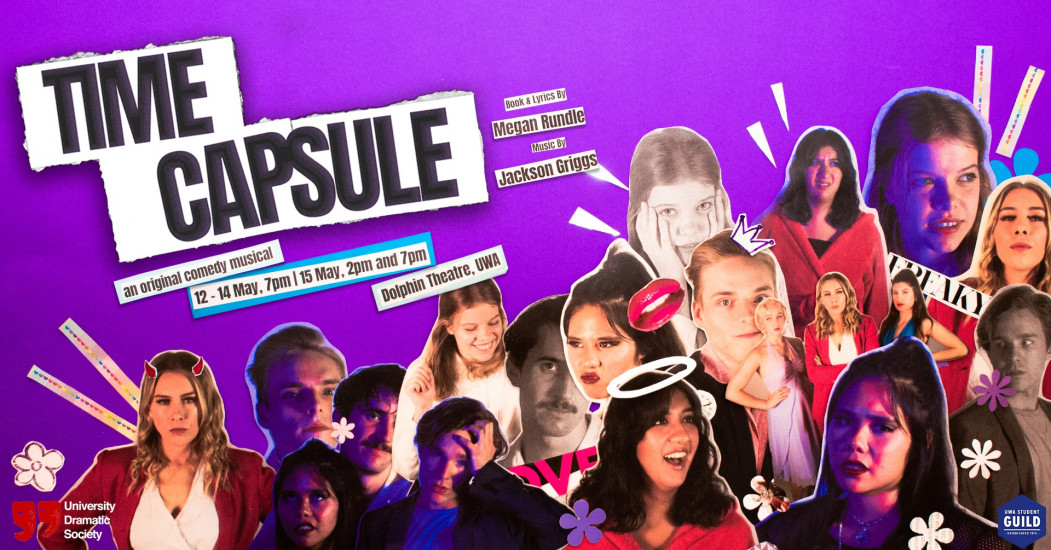 The University Dramatic Society is proud to present this year's original musical, "Time Capsule"!
You're invited to Dunaneen Senior High School's 10 Year Reunion!A lot can change in 10 years… apparently... that's what they say. For Bridget, that hasn't quite been the case. In fact, it only takes an invite to her school reunion to realise she has done absolutely nothing for the past decade. The alumni committee have spared no expense in making the reunion the biggest night since the first night of leavers, and Bridget's going to have to go above and beyond to stand out. Lies will be told, friendships will be tested and tears will be shed in the corner of the girls' toilets.
Time Capsule is a modern Australian pop-rock musical that follows one cohort of desperate nobodies over one hell of a night.
●●●●●●●●●●●●●●●●●●●●●●●●●●●●●●●●●●●●●●●●●●●●●
Book and lyrics by Megan Rundle
Directed by Megan Rundle and Grace Armstrong
Music by Jackson Griggs
Music directed by Yarra Arnes
Choreography by Katherine Hooker
●●●●●●●●●●●●●●●●●●●●●●●●●●●●●●●●●●●●●●●●●●●●●
WHERE: Dolphin Theatre, UWA
WHEN: Wednesday 12 – Saturday 15 May, doors open 7pm for a 7.30pm start. Additionally, Saturday 15 May, doors open 1.30pm for a 2pm start.
TICKETS: The online ticket link and prices will be available soon. Tickets may also be bought in-person at UWA's Oak Lawn from 12–2pm weekdays starting Monday 26 April
Concession ticket prices are available for students, pensioners, UDS members and members of participating UWA Student Guild Clubs.
See you on the dance floor at Dunaneen's Ten Year Reunion.

Cover Art by Nicholas Warrand and Maxi Ford
◯⭘◦●◯⭘◦●◯⭘◦●◯⭘◦●◯⭘◦●◯⭘◦●
Event Dates