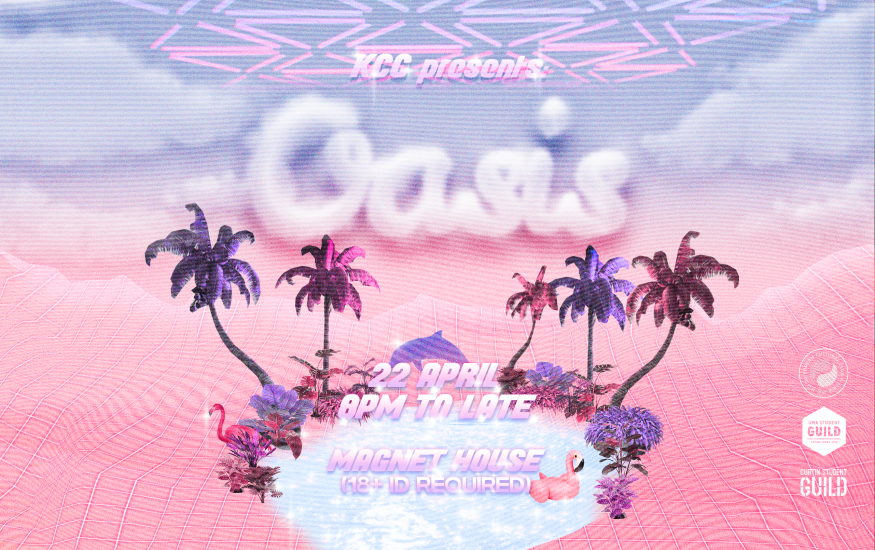 Oh? What's that in the distance? Wait…. It can't be!

IT'S AN OASIS KCC is bringing you a cooling blast to start the year off SO FRESH . Everyone has been asking for MORE so we are giving you MORE & MORE . MAKE A WISH with KCC as we will be making 2021's long-awaited comeback for our 10 YEAR ANNIVERSARY . So POUR UP a glass and LAY BACK for the OASIS . It's our birthday and YOU ARE INVITED . KICK IT into 2nd gear and TAKE OFF with us.
Say ADIOS to your studies and mid-sems and HELLO to KCC's next HIT event, where you can drink some TEQUILA and DANCE THE NIGHT AWAY ! Go SOLO or bring some of THE BADDEST to the PARTY . It doesn't matter if you're a SUPER ROOKIE or THEY CALL YOU AN IDOL , you can SHINE FOREVER at OASIS. Reach EUPHORIA and groove til the SUNSHINE
READY OR NOT , head down to MAGNET HOUSE filled with NONSTOP K-BOPS after the BLUE HOUR !
MAYDAY A little birdy told me there will be something SPECIAL going on. Have your TELEFONO ready to capture the INSTAGRAM worthy moments, cause you don't WANNABE missing out!
Date: April 22nd, 2021
Where: Magnet House
Time: 8pm - 2am
*Click* *Click* Smile for our photographers on the night
T.LE PHOTOGRAPHY
https://www.facebook.com/TLePhotography
VENDOR MEDIA
https://www.facebook.com/vendormediagroup/
And we've just been informed that the PHOTOBOOTH will make a return!
[Dress code ]:
Bright and light colours , something to illuminate in the dark ☁︎
[ TICKETS]
Ticket sales are happening right now via Oztix (note: online booking fees apply)
Grab your tickets right now as there is only a LIMITED amount of EARLY BIRDS
Contact one of our friendly committee members to get a special member-discounted price
Tickets sales via Oztix will close on April 22nd ☁︎
There will be PRIZES to be won so be sure to click 'GOING'/'INTERESTED'
Ticket link: https://tickets.oztix.com.au/.../8cc4eab8-0a3a-4141-93ad...
This is an 18+ event so VALID will be required upon entry on the night:
Passports
Drivers License
WA Proof of Age Card
Remember to drink responsibly!- XOXO, KCC
Event Dates