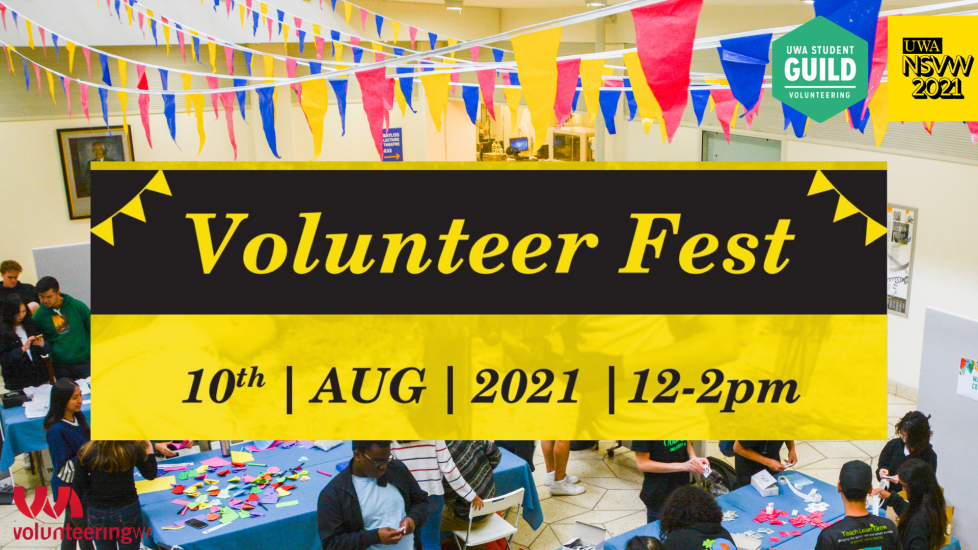 🎉 Come down to Guild Student Centre on Tuesday 10th August to celebrate National Student Volunteer Week at our Volunteering Fest! 🎉
Guild Volunteering and friends warmly invite you festivities to acknowledge UWA's incredible student volunteers with our NSVW Festival!
This year's theme is "Agent of Change: Leadership, Connection, Community & Kindness" and we're excited to bring to you:
Micro Volunteering (6 year birthday special Edition): come and lend a hand and earn transcript recognised volunteer hours with our special Micro Volunteering Hopping Activity:
- Make doggy treats for Dogs Refuge Home WA INC
- Craft for Relay For Life UWA
- Origami with Amnesty International UWA
- plus more to be announced!
**COVID-19 safety measures will be in place for micro volunteering**
Puppy Playdate Tent 🐶
Meet and take photo's with Shenton Dogs' Refuge pups for a gold coin donation
Browse and take Action at Social Impact Stalls:
- UWA Guild Volunteering: find your perfect volunteering opportunity through a personalised referral with our GV ambassadors - make a difference starting now!
- AIESEC
- Amnesty International UWA
- Ignite Mentoring
- Teach Learn Grow
- Relay For Life UWA
- Student for Refugees
- Students for Environmental Action
- Awesome Arts
- Wellbeing Volunteers
- plus more TBC!
Event Dates