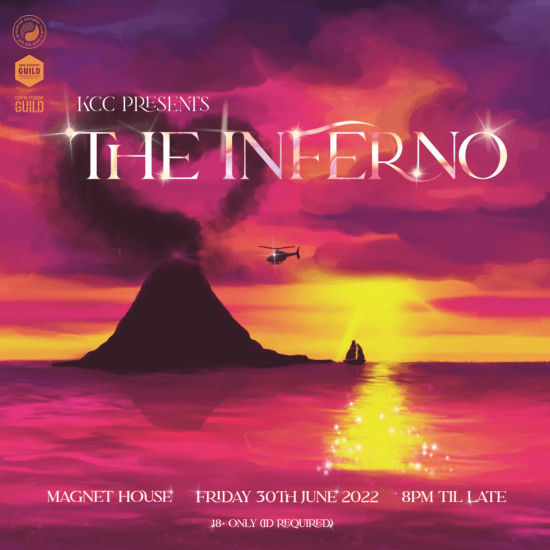 KCC is proud to announce our FIRST MAJOR event of the year! Thanks for patient because we are back stronger than ever before.
If you wanna be LUCKY and get a Taste of Love, meet us at THE INFERNO, and find the love of your life~
You probably already have THE FEELS so take it to THE NEXT LEVEL and tell them your READY TO LOVE. DON'T FIGHT THE FEELING because this is your only chance to go LOCO.
Already taken? INVU :( You can still DUN DUN Dance the night away and fall more CRAZY IN LOVE <3
You only have one life in this UNIVERSE, so don't let your YOUTH go to waste. say BON VOYAGE to Semester 1 AND Bring your NUNA and your OPPA for an UNFORGETTABLE night under the stars.
READY OR NOT, get your ticket ASAP before it sells out or we'll RUN2U.
You don't want to be missing out on the biggest Kpop event in Perth or else you'll be left wanting MORE & MORE.


Date: June 30th, 2022
Where: Magnet House
Time: 8pm - late


🌋 DETAILS 🌋
📆Date: Thursday 30th June 2022
⏰Time: 8PM - late
📍Location: Magnet House
💦 Dress Code 💦
Think vibrant ❤️‍🔥and captivating 🤩outfits like you're dressing to impress the one you love 😉on an 🏝island getaway 🥰💋💘
💸 TICKET PRICING 💸
❤️‍🔥Early birds: $15 (LIMITED)
❤️‍🔥Member: $20 (+$5 for non-members)
(Note online booking fees apply)
HOW TO GET YOUR TICKETS
🚁Purchase tickets online!
🚁Contact one of our friendly committee members!
Message the KCC FB Page or @kccperth to get your special member-discounted price!
🔥 WHAT'S HOT? 🔥
🕺Special committee dance performances
📸Professional photo booth
🥰Exclusive cocktails available
🎁Massive giveaways on both FB and IG - make sure you're following us on IG @kccperth and click GOING/INTERESTED on the event page to be updated on any competitions as we have juicy PRIZES up for grabs 💦
This is an 18+ EVENT so you must bring a valid ID:🛂Passport🆔Driver's license🎫WA proof of age card
Remember to drink responsibly!
Event Dates