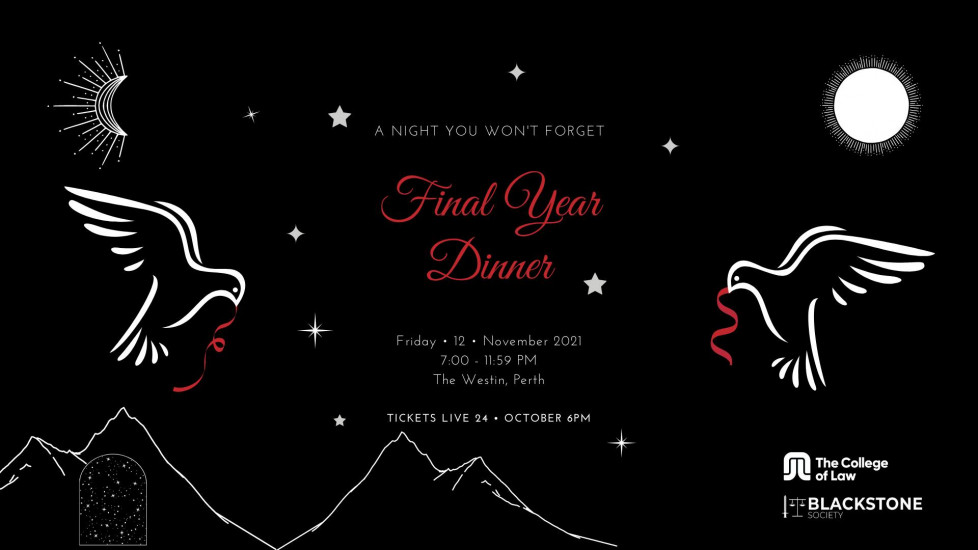 ❗Tickets to Final Year Dinner are strictly for Final Year Students ONLY
✨ Class of 2021, the end is nigh! Congratulations on making it through your Juris Doctor degree - now it's time to PARTY! 🥳
🥰 Kindly sponsored by the College of Law, the last hoorah will take place at the Westin Perth 🤩 don't miss your last change to join your peers and celebrate how far you've come together in style 💅🏼
🎤 Staff and students speakers on the night🔥
🎉🎉🎉🎉🎉🎉🎉🎉🎉🎉🎉🎉🎉🎉🎉
EVENT DETAILS:
📆 When: Friday 12 November 2021
⏰ Time: 7:00pm - 12:00am
🏨 Where: The Westin Perth

TABLE DETAILS:
🍽 Tables will STRICTLY seat 10 people. Table forms are due on 1 November 2021.
🍽 Groups of less than 10 may be separated.
🍽 Please note that guests dietary requirements will be requested on the table form.
🍽 Please only submit one table form per group and ensure that all table members have purchased a ticket.
https://forms.gle/GREXSVvnwPpk5bRL7
🎟🎟🎟🎟🎟🎟🎟🎟🎟🎟🎟🎟🎟🎟🎟
TICKETING POLICY:
‼️ Tickets will be limited to final year students, or students who began the Juris Doctor in 2019 (yes, that includes the mid year intake!).
‼️Each ticket includes a two course meal, drinks and a BUNCH of surprises!
‼️Tickets will sell out. Tickets are limited and we anticipate they will fly out the door!
‼️ Tickets will be on sale: Sunday 24 October 2021 at 6:00pm
🎟 Member tickets: $130
🎟 Non-member tickets $140
🛑⛔️There will be a strict, first in, best-dressed policy for tickets. If you are not available at the designated ticket release time, please make arrangements for someone to purchase your ticket on your behalf. There will be a maximum of 4 tickets per person. Please check the event at this time for the ticketing link.
✅Memberships will be validated. One member number = one member priced ticket.
❌There will be no refunds issued. If you can longer attend and sell your ticket, please contact Samuel Dulyba at [email protected] to have the name changed.
🚫 There are no exceptions to the above policy. This policy is in the interest of fairness. Thank you in advance for your understanding.
FINANCIAL HARDSHIP AND PAYMENT PLANS
💫Students who would like to attend but are unable to purchase a ticket due to financial hardship are strongly urged to apply for an Equity Payment Plan. Please contact Christie Oey at [email protected] for more information and to apply. All correspondence is strictly confidential. 💫
☑️ If you have any further questions about the events or tickets, please email Sam at [email protected].
⚠️⚠️⚠️⚠️⚠️⚠️⚠️⚠️⚠️⚠️⚠️⚠️⚠️⚠️⚠️
IMPORTANT INFO:
✅This event is 18+ only.
✅Tickets, ID, and bags will be checked on entry.
💟Ask for Angela will be in service.
💟Blackstone events are safe and inclusive. ❌Blackstone does not tolerate sexual harassment or violence of any kind. If you are feeling unsafe, please alert staff.
✅Blackstone endorses the responsible consumption of alcohol.
❌Please don't drink and drive.
🦠Please download and scan in using the SafeWA app
🤩🤩🤩🤩🤩🤩🤩🤩🤩🤩🤩🤩🤩🤩🤩

We can't wait to celebrate the degree that was with you!
Event Dates