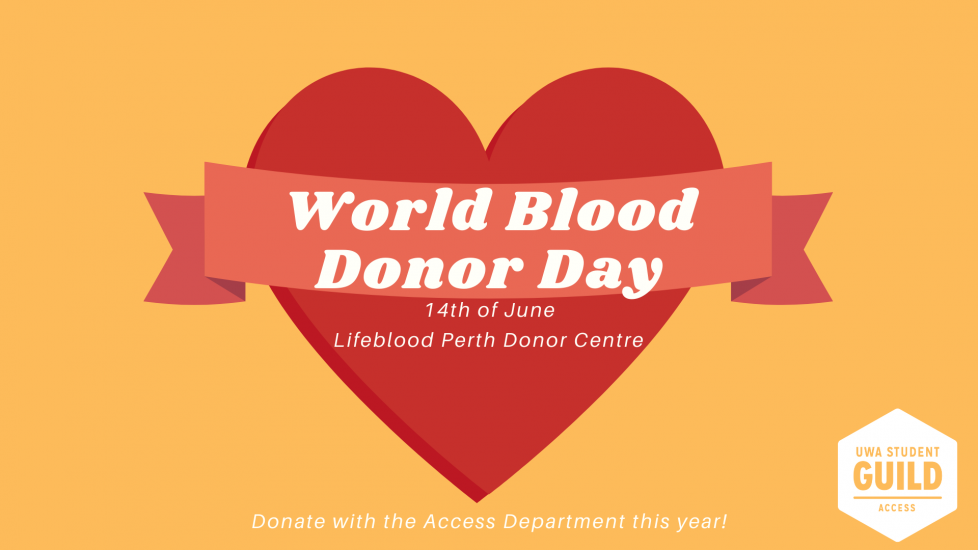 COME DONATE BLOOD WITH THE ACCESS DEPARTMENT!
World Blood Donor Day is on the 14 of June, and we want to encourage more donations by coordinating a group blood donation!
The aim of World Blood Donor Day is to raise global awareness of the need for safe blood and blood products for transfusion and to recognise the critical contribution nurses and voluntary blood donors make. The day also provides an opportunity to call to action international governments and international health authorities to provide adequate resources, systems, and infrastructures to increase safe blood donations across the world.
On the day of donation, we will be providing transport to and from the blood donation centre. You Pick up and drop off will be at UWA!
WHEN: 14 of June
TIME: To be confirmed
WHERE: Lifeblood Perth Donor Centre
WHAT TO DO BEFORE DONATING: Check your eligibility to donate by taking the Eligibility Quiz: https://www.lifeblood.com.au/blood/eligibility/quiz
Fill out our registration form: https://forms.gle/6zLCJ9ZW2xZ3qzo17

Find the pre-donation checklist here: https://bit.ly/3m8AIQE

Find the Plasma Fact Sheet here: https://bit.ly/3wVcQVC
Event Dates