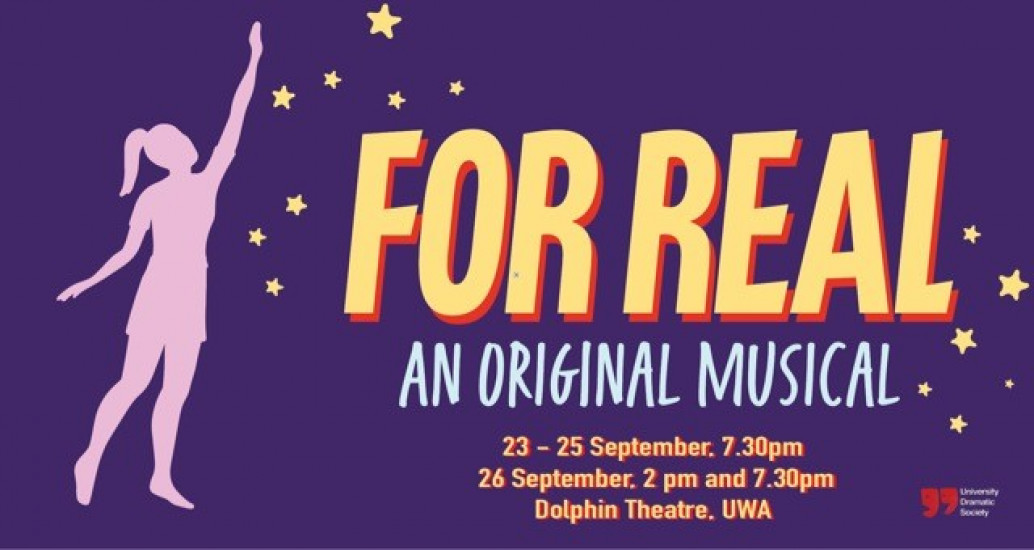 The University Dramatic Society is proud to present this year's musical, "For Real".
Gillian lives and breathes Mallorey – the cheerful, not-at-all sinister media empire, best known for its family-friendly content, tax evasion and worker exploitation. But when she becomes one of those lucky underpaid workers at her local Mallorey store, she's surprised to discover not everyone shares her obsession. So are her imaginary friends, of course.
A superhero warrior princess with an identity crisis, a teenage heartthrob who's contractually obliged to be straight, and a pop star worshipped as a bona fide goddess are just some of the colourful Mallorey-inspired gang that live in Gillian's generic imagination. But as she discovers living in actual reality is actually kinda nice, her fantastical friends fight to literally change her mind.
For Real is a satirical comedy about media monopolies, fanatical fantasies, and, like, life.
Book and lyrics by George Samios
Additional lyrics by Xavier Hazard, Julia Schwab and Yarra Arnes
Directed by Julia Schwab and Xavier Hazard
Music by Yarra Arnes and Daniel Watts
Choreography by Courtney Withers
WHERE: Dolphin Theatre, UWA
WHEN: Doors open 7:00pm, curtain up 7:30pm
TICKETS: Can be purchased from ticketsWA OR on Oak Lawn from 12-2pm weekdays starting September 7 OR at the door.
*Concession ticket prices are available for students, pensioners and UDS members.
Event Dates