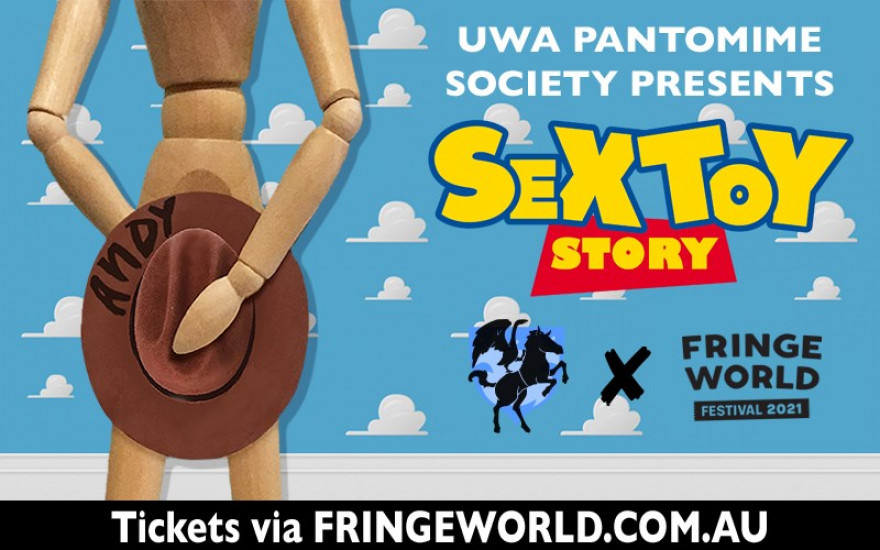 -TICKETS COMING SOON -
Is that a snake in your boot pardners', or are y'all just happy to see me? For the first time ever, the University of Western Australia Pantomime Society is coming to FRINGE WORLD 2021 with their inaugural production, 'Sex Toy Story'. A satirical retelling of a beloved childhood classic, Sex Toy Story follows Andy, a precocious young man who enjoys spending (perhaps a little too much), time alone in his college dorm room with a variety of toys.

Little does Andy know, that when he's not around, his drawer of sex toys come to life! His most favourite is Woody, an old-fashioned wooden dildo and his loyal companion during his blossoming sexuality. Along with other reimagined (but just as charming) characters including, Little Ho Peep the sex doll, Slinky-beads, Mr Buttato Plug, Mr Ham the pocket pussy, and the loveable Wrecks...(your anus), all is harmonious in Andy's room.

Enter Buzz, the newest and top of the range vibrator who is able to quietly and efficiently bring Andy to new heights of mastubatory bliss!

Woody's position as favourite is threatened as he becomes neglected by Andy and Buzz becomes idolised by the rest of the gang! This will not stand with Woody now determined to compete with Buzz for the limited room in Andy's….heart.

Sex Toy Story is a tongue-in-cheek parody and while strictly 18+ due to the subject matter, the show does not contain explicit depictions of sex - so it's even suitable for grandma!
Event Dates