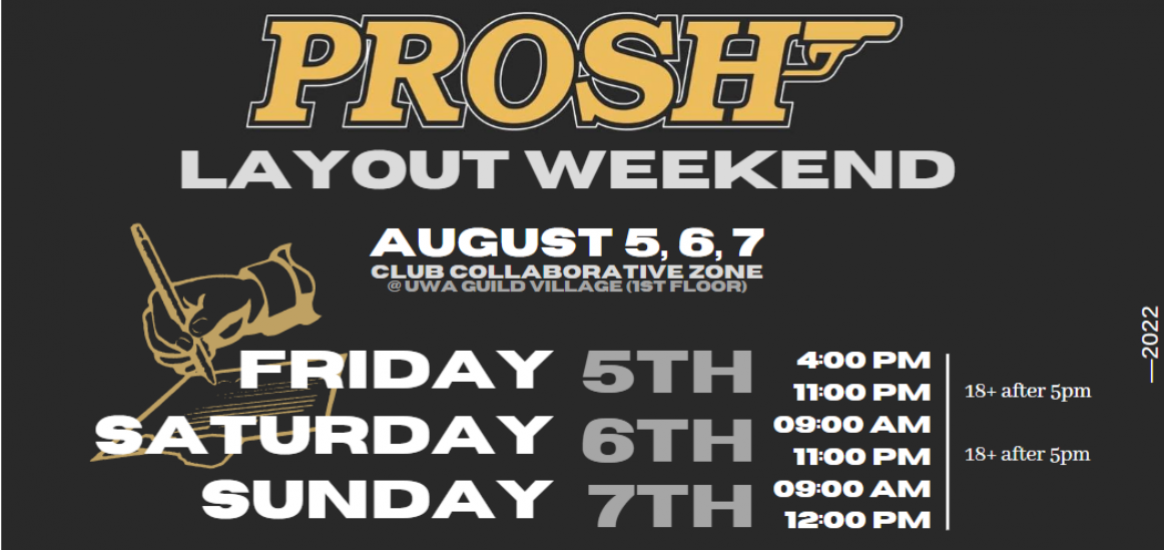 Join the PROSH team as they finalise the 2022 edition of Western Australia's longest running satirical newspaper.

PROSH LAYOUT weekend starts at 5 PM on Friday, August 5 and finishes at 12 PM on Sunday August 7.
LAYOUT is a FREE event is for students who are keen to write, draw, and photoshop satirical content for PROSH 2022!
FRIDAY: 4 PM - 11 PM (18+)
SATURDAY: 9 AM - 11 PM (18+)
SUNDAY: 9 AM - 12 PM (all ages)
This event is 18+ as BYO beer, wine, or premix (no spirits) will be permitted between 5:30PM and 9:30PM on Friday and Saturday evening. Please bring photo ID and student card for entry.
Pizza, snacks, and soft drinks will be provided FREEEE for attendees. You can also gain recognition for volunteer hours on your academic transcript for coming down...
HOW CAN I CONTRIBUTE?
Are you keen to get involved? We want you! Submissions can be made to [email protected].
Check our SUBMISSION GUIDELINES here:
https://docs.google.com/document/d/1J5UsifsMGFUXQeXFZCnpvx1uAYrEtcKr88faI509iEA/edit?usp=sharing
PROSH DAY 2022
PROSH DAY be held on Wednesday 17th August from 5:00am - 12:00pm.
PROSH started as a small paper called the Sruss-Sruss in 1931. Since then it has grown to become one of the most iconic traditions of UWA. Every year, a team of dedicated student writers get together to produce the PROSH paper, a 20+ page newspaper of satirical content on current affairs locally, globally and internationally.
Thousands of UWA students hit the streets of Perth on PROSH Day, rattling tins and handing out papers in exchange for donations. All profits are donated to a group of charities chosen each year that support the WA community. Now in its 91st year, PROSH has helped raise over million dollars for charity!
PROSH SOCIALS
Website: www.prosh.com.au
Facebook: https://www.facebook.com/PROSHUWA/
Instagram: www.instagram.com/proshuwa
Discord: https://discord.gg/KtTarMEd
Event Dates