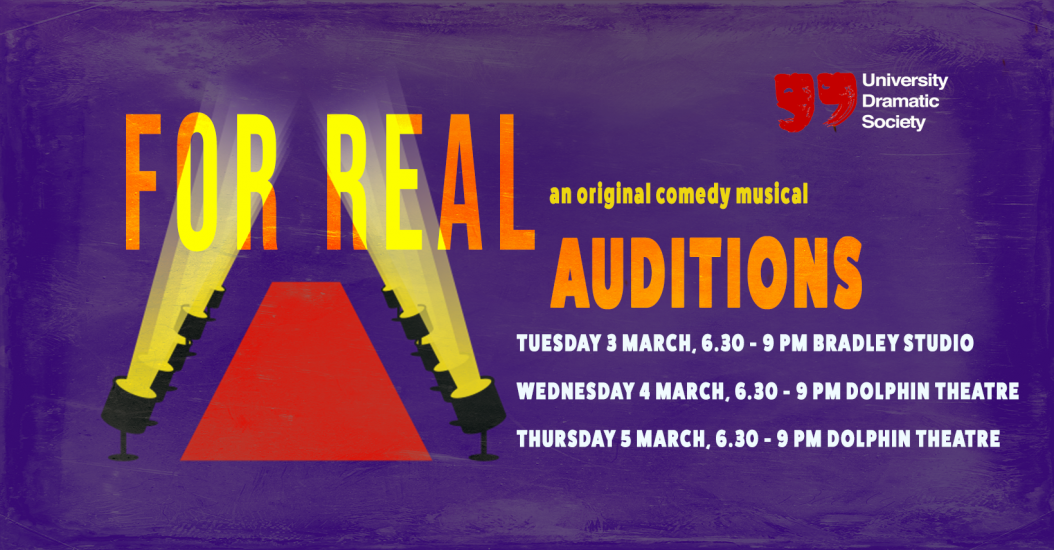 Auditions for the University Dramatic Society's upcoming original musical, For Real! Find us on Facebook (https://www.facebook.com/groups/2820779144682653/) for more information. All acting, singing and dancing levels welcome.
SYNOPSIS:
Gillian lives and breathes media. Her life is: Wake up. News feed. Get up. Tweet. Stand up. Recaps, replays, stanning, ships, speculation. Shows, celebs, YouTube clips. And all of it from Mallorey, the cheerful, not-at-all sinister media empire – best known for its family-friendly content, tax evasion and serial worker exploitation.
So, when an over-the-moon Gillian shoots her shot and becomes one of those lucky underpaid workers at her local Mallorey store, she's surprised to discover not everyone shares her obsession.
And who else is just as surprised? Gillian's imaginary friends, of course. A superhero warrior queen, a teenage heartthrob with an identity crisis, and a pop star worshipped as a bona fide goddess are just some of the colourful Mallorey-inspired gang that live in the garden of Gillian's confined imagination. But as Gillian discovers living in actual reality is actually kinda nice, her fantastical friends fight to literally change her mind.
For Real is a satirical comedy about media consumption, living in fantasies and, like, life. With inspiration from our time living in our own media-infused fantasy, the show will blend classical musical genres with pop, take cues from real life media stories and be filled with heart, humour and a whole lotta singing and dancing.
Event Dates