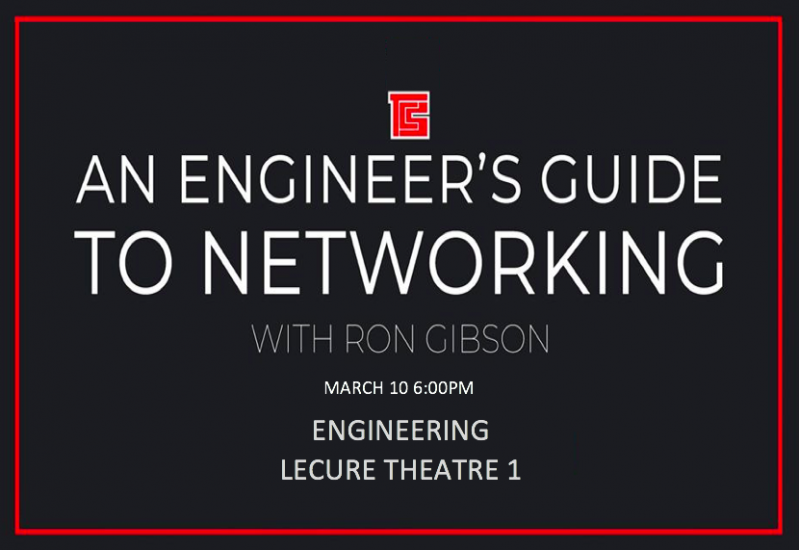 TCS is proud to present "An Engineers Guide To Networking."

One of the most common pieces of advice given to engineering students and graduates is to learn how to network. Most of the best jobs are never advertised and most engineering careers are driven by personal connections. Done right, networking will lead you to valuable connections that will earn you more than contacts, but lasting rich relationships that will give you an edge in this hyper-competitive world.

If you don't quite 'get' how to network or you never know what to say when you approach and reach out to someone.... or if you want to learn how to enjoy networking with confidence, you wouldn't want to miss this important presentation.

Your presenter is Ron Gibson. He is Australia's leading professional expert in career and business networking. Ron will offer up specific advice for creating your networking strategy.
Ron's presentation will include:
- Who you should be networking with
- Where to network for the best results and what to say when you get there
- How to follow up so you capitalise on the good connection you've made
- The pathway to building a well-established network of valuable and important personal connections
-How to 'tap' your network for information, advice, opportunities and introductions

During this presentation, Ron will also cover the following:
-Tips on finding vacation and grad work opportunities
-Using email and LinkedIn effectively to attract job opportunities
-Getting our cover letter and resume right
-The 4 principles of "professionalism"

This will be a fun and interactive learning experience. Not to mention, it'll be a fully catered with food and drinks!
Event Dates